Hello to all kind of life forms and Welcome to My Page



I am Wakko.I'm here to tell you about Cyprus,George's country. Cyprus is a small island in the Eastern mediterranean sea,near Greece.The inhabitants,Greek and Turkish Cypriots used to live together in peace and friendship under one recognised state.However the brutal Turkish invasion of 1974 forced the division of the island in two parts:the south part,known as the Republic of Cyprus,ruled by the legal government, and the north part which is occupied by the turkish troops. GreekCypriots,about 700,000,live in the free parts whereas the occupied land is filled with turks brought from Turkey since more and more TurkishCypriots immigrate.The language spoken is Greek and the main religion is Orthodox Christianity. The currency used is the Cyprus Pound.


I'm Yakko.I'll tell you about himself.Currently, he's 20 years old.He finished school in Acropolis Lyceum where he graduated in June 97.He served National Guard,Cyprus' military force,as a cadet officer for a compulsory 26 months period,and was released in September 99 in the rank of sub-lieutenant.Now you'll find him studying mathematics(admitetly,a passion for him) at UMIST,Manchester.His home is in Strovolos,a suburb of Lefkosia (former Nicosia),the capital of the island which has the disadvantage of being the only separated capital left in the world,since the Turkish invasion.


I'm Dot.I will speak of his interests.Apart from spending some time with his computer (mostly for recreation) he loves playing basketball,reading magazines, playing chess and backgammon and collecting souvenirs from around the world and comics (Disney ones and Asterix are his favourite)He enjoys watching basketball and footbal matches as well as,despite his age,cartoons.He never says no to a good book and relaxes by listening to music and sometimes drawing.He likes classical and instrumental music as well as pop & rock songs(both greek and english).He once took up electronic piano lessons so that he could fulfill his musical instincts.However, he's still an amateur,but he never gives up.He created his own comic character,"Trumpy jr."(shortly to be online),and he looks forward to the day he'll create a Donald Duck story. You'll find him on the net by the nick "Ageras".Boy,he's weird!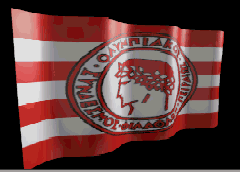 This is the flag of Olympiakos Pireus known as "Thrylos"(Legend).He used to call it the best basketball team in Europe.Now left with very few greek players,he prefers to call it a "circus".However the club's football team is doing pretty good, for the joy of the fans.
Well,That's all folks. If you want more,go to the second page.
Or read some of his thoughts.
For the sports fans,there's news at the Georgium Sports Center.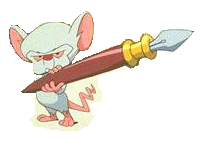 George.Petrides@stud.umist.ac.uk