Welcome to the Comics zone of this page.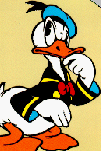 As you know,Disney comics are a passion for him.He reads them in the greek magazine "KOMIX". However,he has missed several issues.What do you care?Why,if I come over there,I'll...
Now,if you have the following issues of KOMIX,please contact him.He's willing to buy them or trade them with older issues (including No1).Don't hesitate.Help a man in need.
Missing issues:
2 ( O Xrysos Gigas )
11 ( To kunigi twn kataskopwn )
37 ( To mustiko tou paliou pyrgou)
55 ( To nuxi tis Kali)
Thanks for your concern!


This is George's Work.Let me hear your comments.